Travel
Please refer to this page periodically, as it will be updated through the opening of the 2017 symposium.
Download the IEEE AP-S/URSI 2017 Mobile App!
Approximately one month prior to the opening of the symposium, you'll be able to "Click here" to download the app to your mobile device or tablet to access the latest meeting information. The app provides access to session locations and scheduling, exhibitor information, social events and much more.
And download the San Diego Travel App, for complete information on the city itself:
http://www.sandiego.org/plan-your-trip/travel-guides/mobile-apps.aspx
General Information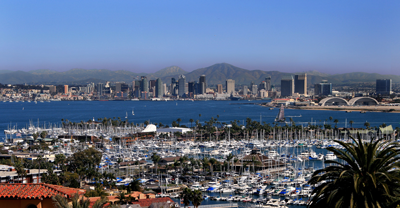 Dress Code and Temperature
Please plan for unpredictable hotel environments. While it's warm outside (San Diego has an average high of 75°F/24°C and an average low of 65°F/18°C), we ask that you prepare for unpredictable hotel environments by packing a lightweight sweater or jacket. July is the month with the least chance of rain throughout the year.
Ground Transportation
The symposium has arranged for discounts with SuperShuttle. This discount is valid between San Diego International Airport and the Manchester Grand Hyatt, as well as other downtown hotels. The symposium rate is US $9.00 per person one-way or $18.00 per person roundtrip. Gratuity is not included. Click http://www.supershuttle.com/default.aspx?GC=QTQ5Y to book directly with SuperShuttle. If you prefer to call, please dial 1-800-BLUE-VAN (1-800-258-3826) and provide the code QTQ5Y to receive your discount. If you need further assistance prior to arrival or when on-site, please call the 24-hour Dispatch Line – 619-564-7998.
Registration Desk Hours
The Registration Desk, for receipt of Advance and On-Site materials, will be located on the Lobby Level adjacent to the Grand Hall. Please note these hours of operation:
| | |
| --- | --- |
| Sunday, July 9 | 7:00 – 17:00 |
| Monday, July 10 | 07:00 – 17:00 (Badge pick up only between 17:00 – 20:00) |
| Tuesday, July 11 | 07:00 – 17:00 |
| Wednesday, July 12 | 07:30 – 17:00 |
| Thursday, July 13 | 07:30 – 17:00 |
| Friday, July 14 | 07:30 – 17:00 |